Degradation of polyvinyl chloride (PVC) is mainly caused by the de-HCl reaction, in which the hydrogen (H) and chlorine (Cl) in PVC molecules are desorbed by heat during processing. The desorbed HCl accelerates this de-HCl reaction, resulting in a chain reaction called the Zipper reaction. As a result, a conjugated double bond (a single bond between two or more double bonds) is formed, which causes PVC to become colored and deteriorate.

Figure 1: Degradation of PVC
To prevent this coloration and degradation of PVC, metal carboxylates, for example, are used. Metal carboxylates used include zinc (Zn), barium (Ba), calcium (Ca), tin (Sn), lead (Pb), and cadmium (Cd). Metal carboxylates react with HCl to form compounds of chlorine and metals (Figure 2). This results in the suppression of the generation of free HCl, which accelerates the de-HCl reaction, thereby inhibiting the degradation of PVC. Metal carboxylates also react with PVC, reacting with Cl added to the carbon adjacent to the double bond, which is a likely starting point for desorption, thereby inhibiting the formation of conjugated double bonds in PVC (Figure 3).

Figure 2. Metal carboxylate [Me(OOCR)2] capturing hydrochloric acid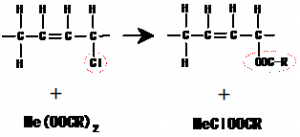 Figure 3: Inhibition of conjugated double bond formation in PVC by metal carboxylate [Me(OOCR)2]
PVC is colored not only by heat during processing, but also by dehydrochlorination reactions that occur when the product is exposed to temperatures near 100°C or to ultraviolet light after processing. Furthermore, the reaction with oxygen in the air causes the PVC chain to break, resulting in a decrease in physical properties (fragility). In order to control degradation caused by these various factors, in addition to metal carboxylates, a combination of several raw materials such as antioxidants (phenol and phosphite), initial coloring inhibitors, and UV absorbers can be used to achieve a stabilizing effect suitable for each PVC product.
Additives that stabilize PVC in this way are comprehensively called stabilizers. We offer a wide range of stabilizers suitable for various PVC products.
References
FURUYA Masayuki, Vinyl Chloride Resin, Nikkan Kogyo Shimbun, Ltd.
YOSHIDA Tokiyuki, SHINDO Shinichi, OGAKI Tadayoshi, IDE Kesaichi, Properties and Applications of Metallic Soaps, Saiwai Shobo